Meet My Neighbors: Marie White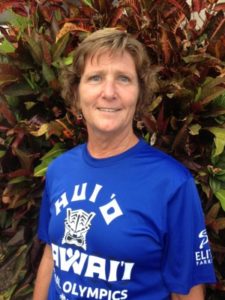 Marie White paces along the concrete edge of the Maui Family YMCA pool, eyes sweeping across splashing swimmers, until they fix on a young man who's stopped at the end of his lane and is hanging on the side of the pool.
"What are you swimming? Freestyle?" she calls across the water. "Ok, swim back to me now, please."
At the upcoming Special Olympics Hawaii State Summer Games, scheduled for this weekend at the University of Hawaii, Manoa, some of her athletes will be swimming relay or individual events. For a few, remembering which stroke they are supposed to be doing will be as much of an exercise as splashing their way across the pool.
For the past 11 years, White has been a volunteer coach for the Special Olympics Maui Dolphins swim team, sharing duties with fellow coaches Josh Rowe, Caleb Rowe, and Cece Mishima. White says that when she first started coaching Special Olympics athletes, she thought it might be a challenge. But, she says, she's found that it's no different from coaching anyone else.
"We all have our special needs," she says. "You just learn their language and teach to their ability."
Read my full story about Marie White in The Maui News here (Subscription required).