Is your hospital prepared for a disaster?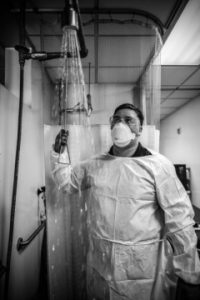 "Are you breathing?"
Emergency-Room Doctor David Williams leans over a "patient" covered in realistic-looking ash and blood. Surrounding him in the pop-up hospital tent lie a dozen more volunteer victims, ready for triage after a plane has crashed at Kahului Airport.
Don't worry yet, it's a simulation, part of a training program by Maui Memorial Medical Center and other local emergency-service providers to prepare their staffs for a mass casualty disaster.
Read the rest of my Hawaii Business story on hospital preparedness here